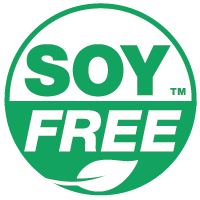 PHOSPHATIDYLSERINE: The original, clinically-proven and patented phosphatidylserine—derived from soy and purified so it's certified soy-free!
Essential to our diet, phosphatidylserine is found in every cell in our body, but most is in our brain. However, phosphatidylserine is deficient in modern diets, plus stress and aging cause deficiency. In Flavay Plus®, phosphatidylserine is a natural complex of phospholipids and fatty-acids proven to activate cell membranes, and to restore acetylcholine and dopamine—essential to memory, attention and problem-solving. The subject of many human clinical trials regarding memory loss, mood, cognitive performance, learning ability, stress, and prevention of, and significant improvement in, exercise-induced stress hormone levels. Thousands of published studies, many published in peer-reviewed mainstream scientific journals, including at least 64 human clinical trials, show daily doses of phosphatidylserine in Flavay Plus® can rejuvenate your brain cell membranes and benefit virtually every brain function. (106-112)
GABA: One of the most abundant neurotransmitters in our brain, persons with anxiety, panic disorders and depression may not produce sufficient levels of GABA. (148-150)
VITAMIN A (as Beta-carotene): The preferred form of vitamin A, beta-carotene is converted into vitamin A only as your body needs it. What remains is a powerful antioxidant shown to strengthen your immune system, reduce the risk of atherosclerosis, heart attack and stroke, and protect against macular degeneration and formation of cataracts. Flavay Plus® provides the highest quality full-spectrum array of plant-derived, antioxidant carotenoids: beta-carotene, alphacarotene, cryptoxanthin, zeaxanthin, lutein, and lycopene. (9,11-13,165,170)
VITAMIN B-1 (Thiamin): Plays an essential role in metabolism of carbohydrates in our body, improves mental attitude, and keeps our nervous system and muscles and heart functioning normally. Inadequate intake may result in mental illness and some psychiatrists, typically with medication, use vitamin B-1 for various emotional and psychiatric illnesses. (9,11-13,157)
VITAMIN B-2 (Riboflavin): Assists in energy metabolism, fatty and amino acid synthesis. Vitamin B-2 is needed for tissue repair and is sometimes called the "growth vitamin." Inadequate intake of vitamin B-2 may cause depression, moodiness, nervousness and irritability. (9,11-13,152,158)
VITAMIN B-6 (Pyridoxine): Involved in the metabolism of amino acids (the building blocks of proteins) and of essential fatty acids, our nervous system is dependent on vitamin B-6 for production of GABA and neurotransmitters in our brain such as serotonin and dopamine. It may be difficult for men and women to obtain even the RDAs from food. In addition, stress, medications, smoking and pollutants raise the B-6 requirement. Inadequate intake is associated with depression, confusion, dizziness, insomnia, irritability and nervousness. (9,11-13,151-158)
FOLATE: is vital for healthy cell division and replication and tissue growth. Folate is a natural form of vitamin B-9 which, along with vitamin B-12, is essential in the metabolism of amino acids, the synthesis of proteins, and in production of RNA and DNA. Folate, along with B-12, is needed for proper formation and regeneration of red blood cells and to break down homocysteine, lowering the risk of heart disease. Folate is also important for normal neurotransmitter function. Some studies suggest a folate deficiency can produce major mental problems and mood changes, including depression, schizophrenia and dementia. Low levels may also be connected with forms of mental retardation and low IQ. Folate is often deficient in the American diet and many medications can cause a deficiency. (9,11-13)
VITAMIN B-12 (Methylcobalamin): Helps our body to utilize fats, carbohydrates and protein; and to maintain a healthy nervous system. Vitamin B-12 increases energy, relieves irritability and improves concentration, memory and balance. Vitamin B-12 also helps our body to form and regenerate red blood cells and to break down homocysteine, lowering the risk of heart disease. In children, vitamin B-12 supports growth. (9,11-13)
VITAMIN C: Water-soluble, a free-radical scavenger, recycles vitamin E, plays a primary role in formation of collagen, prevents oxidation of LDL cholesterol and is essential for a strong immune system. Controlled studies prove the contribution of vitamin C to prevention and treatment of infectious, degenerative and stress diseases, to resistance against pollution and its supportive role in the manufacture of white blood cells and interferon. The half-life of vitamin C is only about 30 minutes in blood plasma, so Flavay Plus® with BioMor® C is preferred because once-a-day use provides your body with vitamin C protection all-day, as it naturally recycles vitamin C in your body by utilizing the synergistic interplay between the antioxidant vitamin and its cofactor antioxidant, Flavay®. (9,11-13)
VITAMIN E: Our body's principal fat-soluble antioxidant. Much of our body's free radical damage occurs in fats, such as cholesterol, and in fatty membranes of cells—exactly where vitamin E protects our body. Vitamin E is used by surgeons before and after operations to ensure against thrombosis and to increase immunity to infection, by pediatricians to prevent blindness in premature babies, and by other specialists to increase high-density lipoproteins. Vitamin E decreases elevated hormone levels and prevents and treats anemias. Flavay Plus® uses cold-water dispersible (dry powder) vitamin E because it is efficiently absorbed even when taken on an empty stomach or with a low-fat meal. Cold-water dispersible vitamin E is twice as expensive as non-cold water dispersible (oil) forms of vitamin E, but the cold-water form in Flavay Plus® is more efficiently absorbed. Also, Flavay Plus® uses only natural (D-alpha) vitamin E because it's safer and substantially more effective (according to The National Academy of Science) than synthetic (DL-alpha) vitamin E which is made from petrochemicals. (9,11-13,160-164)
SELENIUM: Necessary for our body's production of its own naturally-occurring antioxidants, including thioredoxin reductase and glutathione, a key intracellular antioxidant enzyme system responsible for protecting all our body's cells from free radical damage and detoxifying noxious agents from the body. Selenium also has a synergistic effect with vitamin E, which means the two combined are more powerful than either alone. Many Americans do not consume even the small RDA of selenium in their diet−which is dangerous to our health. Low blood levels of selenium have been strongly associated with an increased risk of heart attack, stroke and types of diseases. (9,11-13)
ZINC: as zinc orotate, the most readily-absorbable form of zinc. Research shows zinc orotate is more neutrally charged than other forms of zinc, improving bioavailability and antioxidant properties.
Zinc is an essential mineral and has many important effects on our brain and immune system including neurotransmitter production and enzyme functioning. Stress, physical and mental, cause our body's zinc levels to fall. Zinc is a necessary part of our body's production of DHA and a constituent of many vital enzymes including superoxide dismutase which is a critical cellular antioxidant enzyme responsible for mopping up peroxynitrite (the highly toxic free-radical produced in abundance in normal immune system battles, as in viral or bacterial infections) and plays a powerful role in inflammation. Together with B vitamins, zinc assists in the utilization of insulin and glucose. There is a growing body of evidence to indicate that zinc is needed for the proper maintenance of vitamin E levels in our blood and aids in the absorption of vitamin A. Other important functions of zinc include promotion of glandular and reproductive health. There is strong evidence that zinc is required for the synthesis of the nucleic acids RNA and DNA which are essential for cell repair and cell growth. Studies found large percentages of apparently healthy children are deficient in zinc. (9,11-13,159)
Flavay Plus® is a brain-strengthening formula made of the highest-quality, proven ingredients in clinical doses, providing the best nutritional science has to offer.